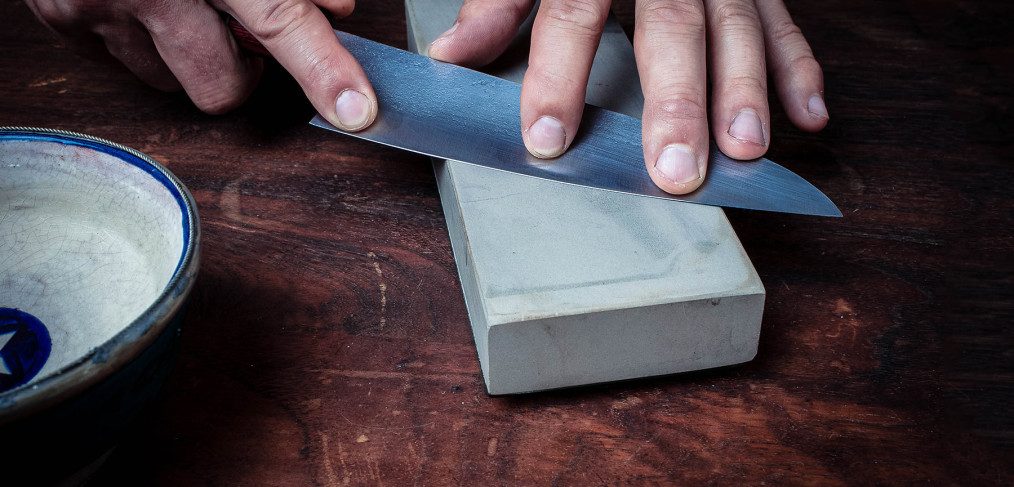 Knife Sharpening Auckland and Japanese knife shop
To see our sharpening options click here or call 0220710133
knife-sharpening-knife-shop-Auckland
Making great food depends on a few factors mainly cooking skills and good produce. Another very important factor is a sharp knife.
No matter what kind of knife person you are, if you like the Japanese knives or Sabatier (French) and Wusthof (German) to name a few, sharp knives are essential to a serious chef.
Knives that can cut rather than pushing through products give better presentation and taste.
Cell damage is minimal when sharp knives are used resulting in retaining flavor and better presentation
Even when edges are sharp, fat blades can wedge vegetables or steer in unwanted directions.
Lets say you want to make a salsa using a sharp or a dull knife. Between the two, results will be very different in looks and taste.
Sharp knives will work faster and increase your knife skills. But be careful a sharp knife is not just a sharp cutting edge it is more than that. So then you might ask what is a sharp knife?
A good kitchen knife has a sharp edge and is thin behind the edge.
When you buy your quality knife and pull it out of its box for the first time there are a few things that you can expect.
That the cutting edge of the knife is sharp
That there is no extra bulk of steel behind the edge of the knife (ie that it is thin)
That the knife blade is straight
When you get your knife sharpened you should be able to expect that these 3 points are kept intact and the profile is the same as it was new . However this is not always the case. Because a lot of knife sharpeners will just sharpen the edge for you. But there is more to it when you look for a quality job.
At Artisan knives we believe that when a knife comes to be serviced by us that the knife should go back to the customer in a condition that is almost as identical to its original condition.
So what is Artisan Knives sharpening process?
We follow a 5-step process.
Firstly, I check for straightness through careful observation. If the knife is not straight I will adjust the blade so I can preform quality sharpening.
Secondly, I need to assess the knife. In my assessment I look to see:
if the blade profile needs adjustments,
if the blade needs any chip or tip repairs, and
if the blade needs to be thinned behind the cutting edge.
Please note that if after my assessment one of these 3 points needs to be addressed I will be in contact with you to with the assessment results. There is an additional cost if you want these services done.
Thirdly, I sharpen by hand using ceramic whetstones made in Japan.
This allows me to go slower than machine operated equipment and thus more control over the sharpening.
Another important factor to know is that by doing this by hand, I only take the least amount of steel away to bring up a new edge and thus maximising the lifetime of knives.
Fourthly, I polish. This is when the steel will start to shine.
For most kitchen knives I finish with a 4000 grit honing stone, unless the customer wants otherwise.
Fifthly, I clean up the knife and remove all sharpening residues.
If you have any questions about knife sharpening please do contact Artisan Knives contact us here
To see our sharpening options click here
We offer knife sharpening service for Auckland and the rest of New Zealand.